Live video channel for visual customer experience
01
Don't use up system's capacity
Video requires a lot of the channel's capacity. In many cases video is not needed at all, often people do not want to be seen without a reason.
02
Escalate from phone call when necessary
With our solution, you only escalate to video when necessary. You can use video and the phone call at the same time. No need to stop conversation and call again.
03
Integrate or use as is
Our video channel can be used as a stand-alone solution, but deep integration with SoftBCom's Call Center is already available. It can also be integrated with any other call center software: Genesys®, Avaya®, Aspect®, etc., as well as SoftBCom's Help Desk or any other ticketing system, like MS Dynamics®or Salesforce®
Add video during phone call

Escalate phone call to video call

Co-browsing

Transferring video call to mobile

Back camera sharing
Phone call escalation
Video channel can be used for showing product photos, or guiding a client through the ordering process.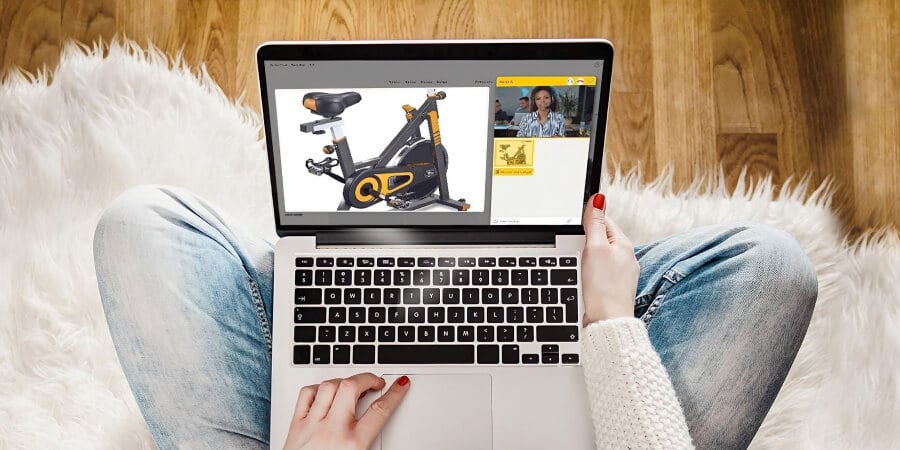 Сall from site
If a client calls from site, and the sales rep decides to switch to a video chat session, he or she generates a unique 4-digit code and tells it to the client. The client enters the code on the site and launches a video session.
Call on the smartphone
If a client is calling with a smartphone, the sales can send him or her an SMS with a link, the client clicks the link and video session with the sales starts. All that, without breaking the phone conversation.
Live Help
We also provide a "Live Help" button, which can be easily embedded into your website with no specific technical knowledge required.

Just one click and a website visitor is connected with your sales rep who can:
show product photos;

send documents and guides;

use co-browsing to navigate the client through the ordering process.
Video Showroom
Useful for car dealers who might want to show a specific feature of a specific model in stock. Also for showing any other expensive product.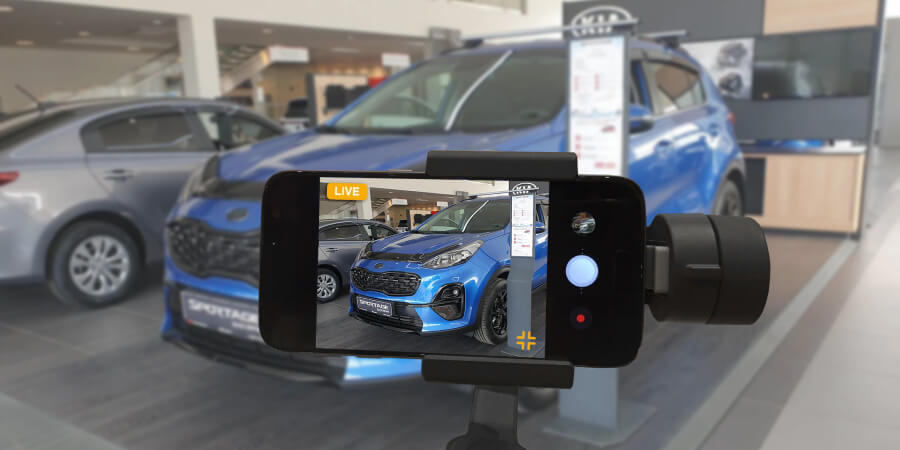 Escalation on the fly
In certain cases, the sales can transfer the video call to his or her mobile and use the back camera of his phone to show the product live.
"Live Demo" button
Video call can also be initiated with the special "Live Demo" button that we provide and that can be easily embedded into a website.
Live visual support for customers
Assembling a furniture piece or maintaining an electronic gadget, etc.
To show the issue details, the client connects with a customer service rep and shares his or her mobile camera.
The expert can see the problem and guide the customer towards a resolution by putting visual marks on the received image.
Video support for field service
When facing technically complex issue, a field engineer makes a video call to a remote expert and shows the equipment using mobile camera.

The expert highlights the equipment details to show the engineer the cause of the problem and helps to resolve it.
Software tech support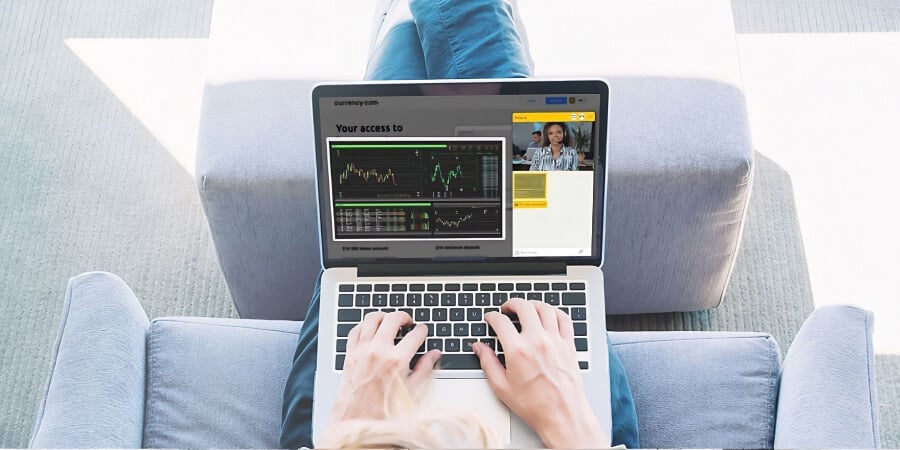 "Live support" button
You may give your customers a one-touch live support option. We provide the "Live support" button that can be easily embedded into your site. Now, to show the issue details, the client pushes it and connects with a customer service rep with the option of showing own screen during call.

The expert can see the problem and guide the customer towards a resolution by putting visual marks on the received image.
Phone call escalation
This can also be done without the button, through phone call escalation. The support staff simply tells the customer the unique 4-digits code to be entered on the website, and the co-browsing starts immediately.

If the customer calls from a smartphone, a link will be sent during the conversation, that will start co-browsing. No downloads required. It is that simple.
Information kiosk
Can be deployed in stores, railway stations, etc.
Info kiosks in public areas help visitors to get a better idea of their location and direct them to various points of interest. HD video delivers an in-person experience while content sharing and allows an expert to visually assist the client with the public area plan, drawing a route on a map etc.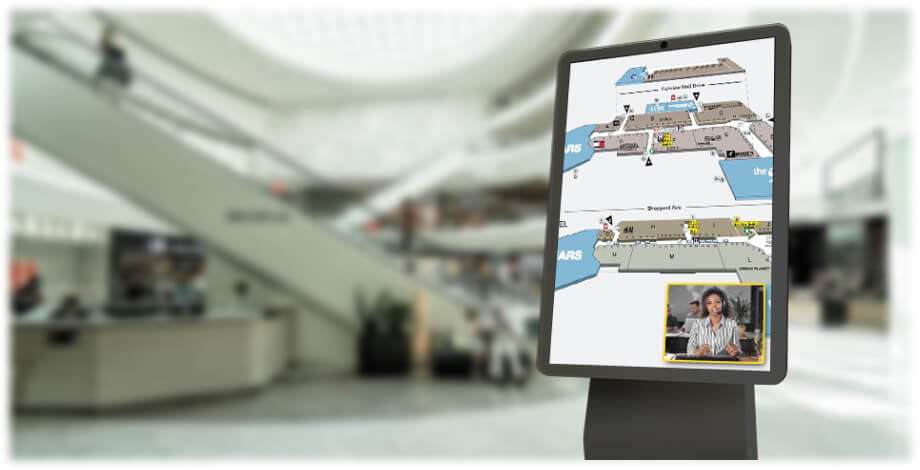 You can embed video channel into your existing self-service kiosks. When a kiosk user needs assistance, he or she will only needs to push a "Live Help" button to video call a remote expert.
Live expert station with signature option
Can be deployed in car rentals, stores, etc.
An expert station in a store connects shoppers with remote experts who help configure a complex product and print the specification. Such kiosk can be equipped with printer and scanner controlled remotely by an expert. Digital signage solution with live video agent is one of the options.
Can be deployed in car sharing, banks, etс.
A quick and convenient method of verifying your customer's identity online via secure video session. Supports integration with third-party biometry software.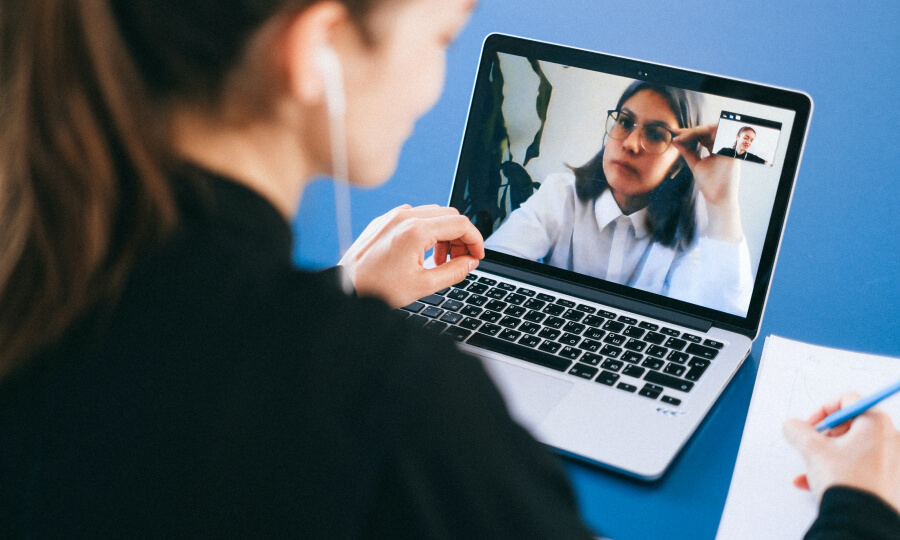 1. A client makes a one-touch secure video call to a company using a PC or a smartphone. No downloads required.
2. The company rep or a call center agent asks him/her to show the ID.
3. The third-party biometric identification system compares the photo on the ID with the client video.
4. The embedded text chat allows parties to send documents (contracts, terms of service etc) addresses, phones, IDs etc.
5. The whole session is protected using strong cryptographic protocols and is recorded on the company server.
Remote damage assessment
5.
Can be deployed in insurances, car repairs
A quick method to settle damage issues and claim insurance.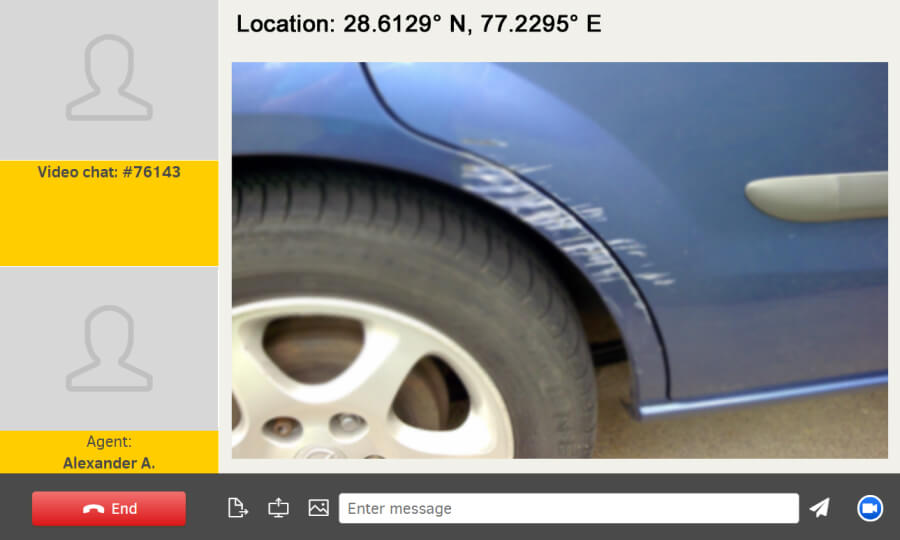 1. Client calls insurance
2. Insurance agent asks him or her to escalate to video and show the problem (possible when the client is calling over a smartphone)
3. The agent send the client a link in SMS
4. Without stopping the conversation, the client is able to switch on the rear camera
5. Client shows the problem live from different angles
6. Insurance agent makes assessment and sends the client filled-in papers for review on the fly
Integration is possible with most popular contact center systems.
If you operate a Cisco-powered contact center, the Video Channel software may be integrated with your UCCX/UCCE, Cisco UCM and Finesse desktop.
The Video Channel app seamlessly integrates with SoftBCom Contact Center software providing customers with true omnichannel experience.
Any SIP contact center
SoftBCom Video Channel supports integration with any SIP contact center. Lets discuss the integration with your CC infrastructure.
Contact us and see it in action
Set a free appointment for additional information